I received my training as a Health Coach from the Institute for Integrative Nutrition's (IIN) cutting-edge Health Coach Training Program, and a board certified holistic practitioner with American Association of Drugless Practitioners (AADP).

I am certified as Personal Trainer with America Fitness and Aerobics and Association (AFAA). My training included: Anatomy and kinesiology, fitness assessment testing procedures, nutrition fundamentals and weight management, special populations and medical considerations, listening, leadership and motivational skills, exercise programming in the weight room, wellness programming and screening guidelines.

I am also a certified TRX Suspension and RIP trainer by Fitness Anywhere.

I am CPR and AED certified.

Past Career and Degree:
Bachelors of Engineering in
Electrical Engineering (1993)
Certified Novell Administrator (1996)
Technical Support Engineer, Software Quality Assurance Engineer, and Manager of Quality Assurance (1993 to 2000).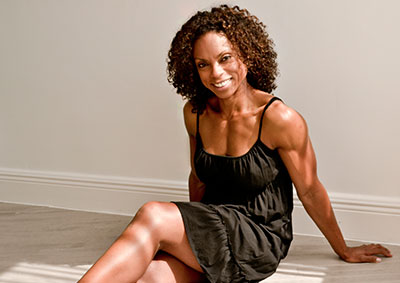 Nicole Popplewell is a fitness guru and single mother of two. She carries an inspirational wallet card from her mother reminding her that she is strong.

In September 2009, Nicole entered her first Bodybuilding competitions, INBF, to her, they were all a success in winning herself. Actually winning a competition, gaining her Pro Title in the 2010 NaturalMania Women's Overall, was what lead Nicole to add a twist to her teaching and incorporate her passion for fitness. She withdrew from a Masters Education Program, pursuing a variety of training certifications.
Raised in the West Indies of Trinidad, Nicole lived an active childhood, was exposed to whole foods, cooking and eating in a traditional family environment. "With my upbringing, I tend to bring an international and creative approach to my health and fitness. I love experimenting with food!
I have always been an athlete and a lover of the outdoors. I am a competitive runner, participating in many road races. I enjoy running 5k races with my two daughters and also take pleasure in participating in recreational sports with them. In a nut-shell, I enjoy outdoor activities, traveling, and cooking healthy and nutritional meals" Nicole shares.
Considering living in a fast-paced world, the goal is to support others through a step-by-step life style change in wellness, by helping them create a balanced, healthy life to feel good about themselves in all aspects.
Training at IIN (the world's largest nutrition School, recognized by AADP) involved studying over 100 dietary theories, practical lifestyle management techniques, and innovative coaching methods with some of the world's top health and wellness experts. Various courses were taught by Dr. Andrew Weil, Director of the Arizona Center for Integrative Medicine, Dr. Deepak Chopra; leader in the field of mind-body medicine; Dr. David Katz, Director of Yale University's Prevention Research Center; Dr. Walter Willett, Chair of Nutrition at Harvard University; Geneen Roth, bestselling author and expert on emotional eating, and many other leading researchers and nutrition authorities.

This education has equipped Nicole with extensive knowledge in holistic nutrition, preventive health and health coaching. Drawing on the education of different dietary theories, she works with clients inspiring them to make lifestyle changes that produce real and lasting results. 
The inspirational wallet card that was given to Nicole by her mother, Joyce Popplewell,
"This has helped me keep plodding along toward my goals."
Repeat after me:
I am strong.
I am special.
I can do anything.
Sometimes life throws hurdles in your path,
but we just have to keep on going full speed ahead,
looking inside ourselves for the courage to leap over them and never look back.
Always believe in yourself as much as others believe in you.

YOU ARE STRONG
YOU ARE STRONG
YOU ARE STRONG!
Written by Natalie Evans, © Blue Mountain Arts, Inc.
Find Direction, Motivation, Discipline and Dedication with Sculpt to Wellness!

Peace,
Nicole Popplewell, CFT, CHC, AADP
Founder of Sculpt to Wellness, LLC